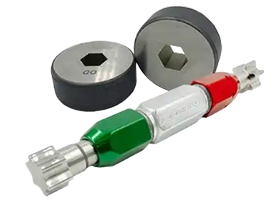 Go / No-Go Form Gages
Slater Tools manufactures standard and custom inspection gages for your specific application. Use our Go and No-Go Gages to inspect your parts for machining process variations such as form size, twist, tool wear, etc.
Slater Tools Gages are held to extremely tight tolerances with extremely fast delivery times. Go/ No-Go Gages are produced from oil hardened M2 high speed steel and can be custom made to any shape or size to fit your custom needs.