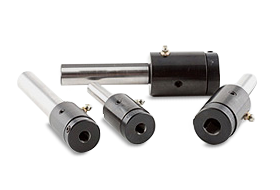 Internal Adjustment-Free Tool Holders
Slater Tools is the leading manufacturer of high quality, compact Rotary Broaching Tool Holders designed specifically for Swiss type and other precision machines.

For use in both CNC mills and lathes, the Adjustment Free Rotary Broach Tool Holder reduces set-up time. There is no need to alter the tool holder shank length like other non-adjustable broach holders in the industry. Simply set the Rotary Broach Holder into your machine and you are ready to rotary broach!