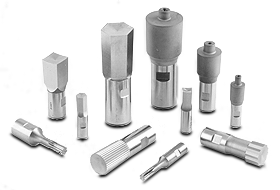 Internal Rotary Broaches
Slater Tools Inc. offers the largest variety of internal and external rotary broaches, also known as wobble broaches. Fast delivery is guaranteed on all polygon forms, with standard broaches available from stock.

Because we manufacture everything in-house, any desired custom broach can be made to your exact specifications in as little as 1 day. Custom lengths (including 28mm), different materials and coatings are offered on all Rotary Broaches. Pressure-relief vent holes, spun ground diameters, corner radii, special tolerances, quantity discounts and re-sharpening are also available.