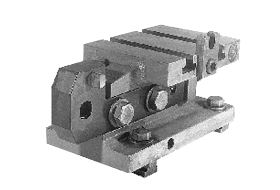 Forming Circular Double Deck
Get maximum performance from your automatic or multiple spindle machine with the use of Slater Tools' Double Deck Tool series. Used for heavy forming cuts, this Forming Circular Double Deck fits standard size circular cutting tools. The sturdy construction suits multi-spindle machines. Holders are available for different positions and various screw machines.
Call: 586-465-5000 / Email: direct@slatertools.com
Slater Tools Offers a Complete Line of Screw Machine Products for the Turning Industry:
Acme
New Brit
Warner and Swasey
Brown and Sharpe
Davenport
Conomatic
Greenlee
Wickman
Gildemeister
When requesting a quote, please specify your machine type and spindle position.
ORDER DIRECT
Call: (586) 465-5000
Fax: (586) 465-3030