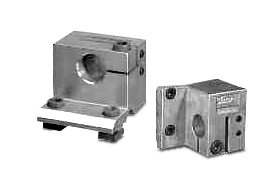 Knurling Blocks
These Knurling Tool Holder Blocks are for multi-spindle automatics, chucking machines, single spindle automatics, hand screw machines and turret lathes. These blocks are made reversible whenever possible for adapting the tool holder to more than one cross slide position on any machine. This gives a wider range of lateral adjustment to the holder.
Call: 586-465-5000 / Email: direct@slatertools.com
Slater Tools Offers a Complete Line of Screw Machine Products for the Turning Industry:
Acme
New Brit
Warner and Swasey
Brown and Sharpe
Davenport
Conomatic
Greenlee
Wickman
Gildemeister
When requesting a quote, please specify your machine type and spindle position.
ORDER DIRECT
Call: (586) 465-5000
Fax: (586) 465-3030