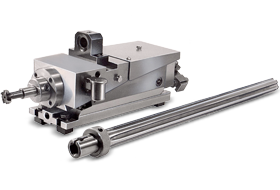 Recess Rotating Attachment
When grooves must be formed deep within a hole, their shape, size and concentricity often can be improved through the use of a revolving/ rotating recess milling attachment.

This is a wedge-type drawback recessing attachment. The Recess Tool is held in the spindle, which is riding on precision bearings and driven by a splined shaft from the screw machine's gear box.
Call: 586-465-5000 / Email: direct@slatertools.com
Slater Tools Offers a Complete Line of Screw Machine Products for the Turning Industry:
Acme
New Brit
Warner and Swasey
Brown and Sharpe
Davenport
Conomatic
Greenlee
Wickman
Gildemeister
When requesting a quote, please specify your machine type and spindle position.
ORDER DIRECT
Call: (586) 465-5000
Fax: (586) 465-3030