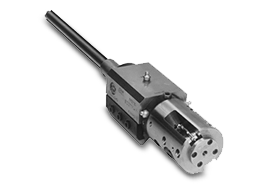 Milling Rotating Attachment
The Milling Rotating Attachment was designed to eliminate having to stop the machine spindle to cut slots or flats at the end of parts. The machine spindle and the Milling Rotating Attachment rotate in tandem, while the internal saw blade rotates to cut the slot. Cuts are fast, accurate, and more importantly, accomplished in line. This attachment can also be used for straddle milling.

Customers rely on Slater Tool's Rotating Milling Attachments for precision, rigidity, and long life.
Call: 586-465-5000 / Email: direct@slatertools.com
Slater Tools Offers a Complete Line of Screw Machine Products for the Turning Industry:
Acme
New Brit
Warner and Swasey
Brown and Sharpe
Davenport
Conomatic
Greenlee
Wickman
Gildemeister
When requesting a quote, please specify your machine type and spindle position.
ORDER DIRECT
Call: (586) 465-5000
Fax: (586) 465-3030