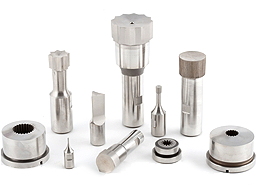 Other Custom Shapes
Have a shape not listed or other irregular form? Not a problem! Slater Tools can create any custom rotary broach to fit your specific needs. Custom shaped rotary broaches can be produced from hardened high speed M2 steel, PM4 or T15 cobalt. TiN, TiCN, and TiALN coatings are available for all rotary broaches. Pressure relief vent holes, spun ground diameters, corner radii, special tolerances, quantity discounts and resharpening are also offered.
Call: 586-465-5000 / Email: direct@slatertools.com
Please send us your form requirements or a portion of your print and we will provide you with a quote. If you have any questions please call one of our helpful sales associates for assistance.
ORDER DIRECT
Call: (586) 465-5000
Fax: (586) 465-3030