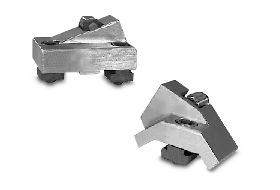 Support Shaving End-Slide
While shaving it is advisable to support work that is long in relation to its diameter. This prevents the part from springing under the cut. Screw Machine shaving supports are manufactured for this purpose.

Slater Tools' Support Shaving End-Slide maintains support on your screw machine as shaving decreases the workpiece diameter. This tool helps maintain close tolerances and required fine finishes. This item compliments the proven pin type Shaving Dovetail Tool Holder.
Call: 586-465-5000 / Email: direct@slatertools.com
Slater Tools Offers a Complete Line of Screw Machine Products for the Turning Industry:
Acme
New Brit
Warner and Swasey
Brown and Sharpe
Davenport
Conomatic
Greenlee
Wickman
Gildemeister
When requesting a quote, please specify your machine type and spindle position.
ORDER DIRECT
Call: (586) 465-5000
Fax: (586) 465-3030