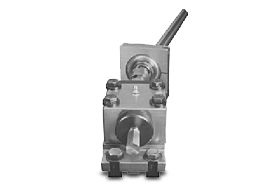 Rotary Broaching Attachment
Slater Tools' Rotary Broaching Attachment is synchronized (1:1 ratio) with the spindle by means of a spline shaft and pick-off gear. This attachment has several advantages. First, it eliminates any twisting of the form and skidding on the work piece chamfer. It also increases the broach tool life and much deeper forms can be obtained. Slater Tools offers a variety of attachment sizes for internal and external work. This attachment is available for use on a variety of multi-spindle machines including Acme, New Britain, Greenlee, Cone, Warner Swasey, and Tornos Bechler.
Call: 586-465-5000 / Email: direct@slatertools.com
Slater Tools Offers a Complete Line of Screw Machine Products for the Turning Industry:
Acme
New Brit
Warner and Swasey
Brown and Sharpe
Davenport
Conomatic
Greenlee
Wickman
Gildemeister
When requesting a quote, please specify your machine type and spindle position.
ORDER DIRECT
Call: (586) 465-5000
Fax: (586) 465-3030