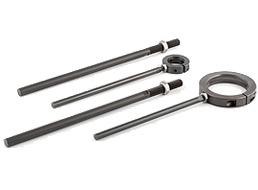 Orientation Dog
The oritenation dog is a fixture used to time or align a feature of the broach (such as a flat or a tooth) to the workpiece. Simply attach the clamp portion of the orientation dog around the spindle of the broach tool holder, and mount the provided stop rod to the work-side or spindle side of your mill. This allows you to control the position of the broach tool, as it holds the spindle of the holder stationary while the body continues to rotate. Take control of positioning with this unique fixture.
| For Tool Holder Series | Part # |
| --- | --- |
| 0600 and 7600 | BOD-7600 |
| 0700 and 1760 | BOD-1760 |
| 3700 and 3760 | BOD-3760 |
| 3770 | BOD-3770 |
| 7760 | BOD-7760 |
Holds alignment/ orientation of the broach on a mill
Available sizes fit every Slater Tools Rotary Broaching Tool Holder
Rotary Broaching Orientation Dog includes a 9" arm that can be altered
Stop Rods for use in fixturing are included
Holds the spindle of the Rotary Broaching Tool Holder stationary against the stop rod as the Tool Holder body rotates
Can be mounted on the work side or spindle side
Because the Rotary Broaching Tool Holders have a random start, orientation cannot be held with just the holder. If orientation needs to be held, this can be achieved on a mill with the use of the Slater Tools Rotary Broaching Orientation Dog.
Stop rod can be spindle-side mounted or work-side mounted.
ORDER DIRECT
Call: (586) 465-5000
Fax: (586) 465-3030