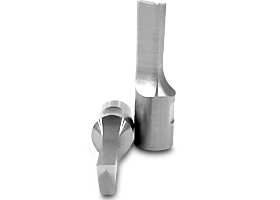 Keyway Punch Broaches
Produce keyways in blind or through holes with Slater Tools keyway slotting tools. Slater's Keyway Punch Broaches allow full form keyways to be produced on your CNC machine. Also known as single point keyway tools, the form is created in the work piece by slotting a portion of material and incrementaly indexing the machine forward until the desired key height is acheived.
Keyway punch broaches are designed to meet ANSI B17.1, DIN-6885, and ISO R773 Standards. They are also available in non-standard custom geometries. Engineered to optimize tool life, Slater's keyway punch broaches allow for multiple re-sharpenings.