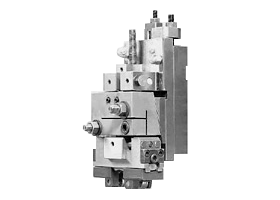 Davenport Universal Vertical Slide
Update your Davenport with Slater Tools' universal type slide. It will give you a new approach to tooling, eliminating the need for special tooling or semi-standard setups. No alterations are required for mounting. No adjustments of other stations are needed to work with a stationary 4th position slide. It will enable you to save time on initial job setups, on minor adjustments during job runs, and when changing from one job to another. It accepts up to six types of tool holders. Tooling options are available for the Fourth "D" Position.
| Position | Machine Model | Part # |
| --- | --- | --- |
| Fourth "D" | Model "B": 5/8" or 7/8" | SVS-7340 |
Circular, Dovetail, and Flat Forming tool holders mount direct to Slater Vertical Slide.
Fourth "D" position holder blocks for use with Slater Vertical Slide:
| Type | Part # |
| --- | --- |
| Knurling Mounting Block | STB-7610 |
| Shaving Mounting Block | STB-7610 |
| Skiving Mounting Block | STR-7610 |
ORDER DIRECT
Call: (586) 465-5000
Fax: (586) 465-3030