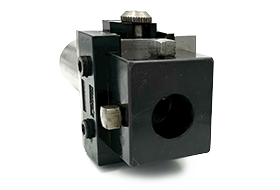 Boring Bar Tool Holders
The high precision head of this Boring Bar Tool Holder is designed and ruggedly built for heavy cuts and accurate bore sizing for large volume production runs. Slater Tools' Boring Bar Tool Holders use industry standard boring bars, reducing the need for special tooling. Tool bores are ground concentric with the shank and can be used for trepanning. The double hole is designed to accommodate a larger range of bore sizes. All moving parts on this tool holder are hardened and ground.
Slater Tools Offers a Complete Line of Screw Machine Products for the following machines:
Acme
New Brit
Warner and Swasey
Brown and Sharpe
Davenport
Conomatic
Greenlee
Wickman
Gildemeister
When requesting a quote, please specify your machine type and spindle position.
ORDER DIRECT
Call: (586) 465-5000
Fax: (586) 465-3030