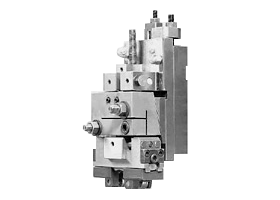 Davenport Universal Vertical Slide
Update your Davenport with Slater Tools' universal type slide. It will give you a new approach to tooling, eliminating the need for special tooling or semi-standard setups. No alterations are required for mounting. No adjustments of other stations are needed to work with a stationary 4th position slide. It will enable you to save time on initial job setups, on minor adjustments during job runs, and when changing from one job to another. It accepts up to six types of tool holders. Tooling options are available for the Fourth "D" Position.
Slater Tools Offers a Complete Line of Screw Machine Products for the Turning Industry:
Acme
New Brit
Warner and Swasey
Brown and Sharpe
Davenport
Conomatic
Greenlee
Wickman
Gildemeister
When requesting a quote, please specify your machine type and spindle position.
ORDER DIRECT
Call: (586) 465-5000
Fax: (586) 465-3030