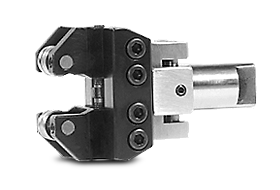 Cross-Slide Knurling Tool Holders
The heads of Slater Tools' Cross-Slide Knurling Tool Holders float to give uniform pitch diameters. The controlled tilting action aids in index clearance.These Knurl Tool Holders feed to center from the cross slide of the automatic or turret lathe. Knurl Roll Holders can be sold independently. This tool holder may also be used as a straddle burnishing tool holder to work behind shoulders. The Cross-Slide Knurling Tool Holder is used for general applications on multi- spindle automatics, chucking machines, single automatics and hand screw machines. To use on turret lathes and hand screw machines, it must be mounted in a knurl block and bolted directly to the front or rear cross-slide.
Call: 586-465-5000 / Email: direct@slatertools.com
Slater Tools Offers a Complete Line of Screw Machine Products for the Turning Industry:
Acme
New Brit
Warner and Swasey
Brown and Sharpe
Davenport
Conomatic
Greenlee
Wickman
Gildemeister
When requesting a quote, please specify your machine type and spindle position.
ORDER DIRECT
Call: (586) 465-5000
Fax: (586) 465-3030